Want to read my story?
During my university years in NYC, I was inspired by awesome architecture on all sides. I began studying buildings and their design, and I immediately found myself driven to find the right words for each shape. Architectural history became (and still is!) one of my passionate hobbies.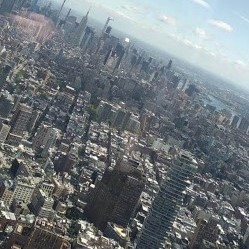 Summer jobs introduced me to the business of writing. I quickly found myself responsible for any and all written correspondence in the office positions that I took. Known to be a perfectionist with crafting words, friends and family with small businesses turned to me to help out with their brochures and fledgling websites. The venue or topic didn't matter, I was simply happy to be immersed in the written word.

Always searching for new subject matter, I finally turned to my own life experience as a springboard. My father was a doctor, and my mother was a nurse; stacks of JAMA generally decorated our coffee table, and dinner conversations often revolved around interesting cases of the day.
At 12 years old, I was diagnosed with Type 1 diabetes. Not only did I arm myself with education about the condition, but I also learned to live well with it. I began to write all that I knew about life with diabetes. This interest expanded to a general preoccupation with health and well-being topics, which I now research and publish regularly for a variety of healthcare companies and practices.

As demand for web content fast-tracked the freelance market, I jumped on with excitement for the ride. I enrolled in an online course at Health Writer Hub to hone my skills, and I built up loads of practical experience.
I've written many homepages, landing pages, blogs, news articles, Q&A knowledge bases, consumer health education brochures, press releases, email marketing letters, infographics, biographies, video scripts, social media posts, and more...

Take a look at my portfolio samples, and please ask me if you want to read additional work.

When it comes to writing - I rarely turn down a topic or a challenge. Together, we'll get to the point you want to make. Looking forward to working with you!